VisionShare A / AC series
Professional true 4K plug & play
wireless collaboration solution
VisionShare A / AC series (HDMI / HDMI & USB-C), the wireless presentation and collaboration system (WPS) turns any old-fashioned meeting room into a modern and stylish collaboration space. With its simple HDMI or USB-C plug and play functionality, provide more convenience and powerful wireless presentation solution.
​
VisionShare is the only WPS with mmWave, the gold standard of speed. Millimeter-wave (mmWave) described as "super-fast" and "ultra-fast" by mainstream media, which is absolute golden standard for wireless communications devices in terms of not only speed but also user experience that you will have experience the wireless like never before.
Proprietary
60GHz Network
Point to Point Connection
HDCP/DTCP
Certificated
Vision

Share

A / AC features
VisionShare is an instant plug-and-play wireless presentation system that uses HDMI & USB-C wireless connectivity. VisionShare also adopts the newest technology to present faster speed and larger bandwidth to support TRUE 4K connections with near-zero latency. No compression is needed to present the best-quality video performance ever. You see what you broadcast.
Through HDMI & USB-C dongle direct plug-in laptop without the learning curve. Simple, easy and high-performance!
60GHz, the super-fast speed with high band-width that support true high-quality image without compression.
HDMI dongle builds a battery that supports 2.5 hours of meeting. All-in-One solution to combine with power station and storage.
BYOD (Bring-Your-Own-Devices) through Mirroring 360
VisionShare platform support not only hardware but also software. Mirroring360 can wirelessly mirror & record your Chromebook, iPad, iPhone (via Airplay), Android, Windows, and Mac screens without the need for hardware or cables.
Professional start-up image by customized set-up
VisionShare opens to set up a platform for customers to change their device ID, background, and different time zones.
​
OTA (Over the air) function provides the online update service to fasten the service for the customer.
High-efficiency true performance wireless presentation system
Enterprise high security
wireless collaboration solution
Brands that trust NorthVision
Our professionalism has resulted in solid long-term relationships with our clients.
Our partner's success is also our success. They trust us - you will, too!
Vision

Share

AC

series




Wireless Presentation System Overview
HDMI / USB-C Plug & Play




Extend Desktop
Plug n' Play via HDMI or Type-C connectivity readily available on your laptop without the hassle of installing any third-party software or driver
Protected material design
​
Water resistant to prevsent destroy internal electric board

Magnetic attraction for ease of power charging.

UV coating on transmitter surface
​
Real-time switch between players

Battery built-in (HDMI type); Power direct from laptop (USB-C type)
​
Long LED bar shows signal status in Red/Blue and Green

4 small dots are battery capacity indicator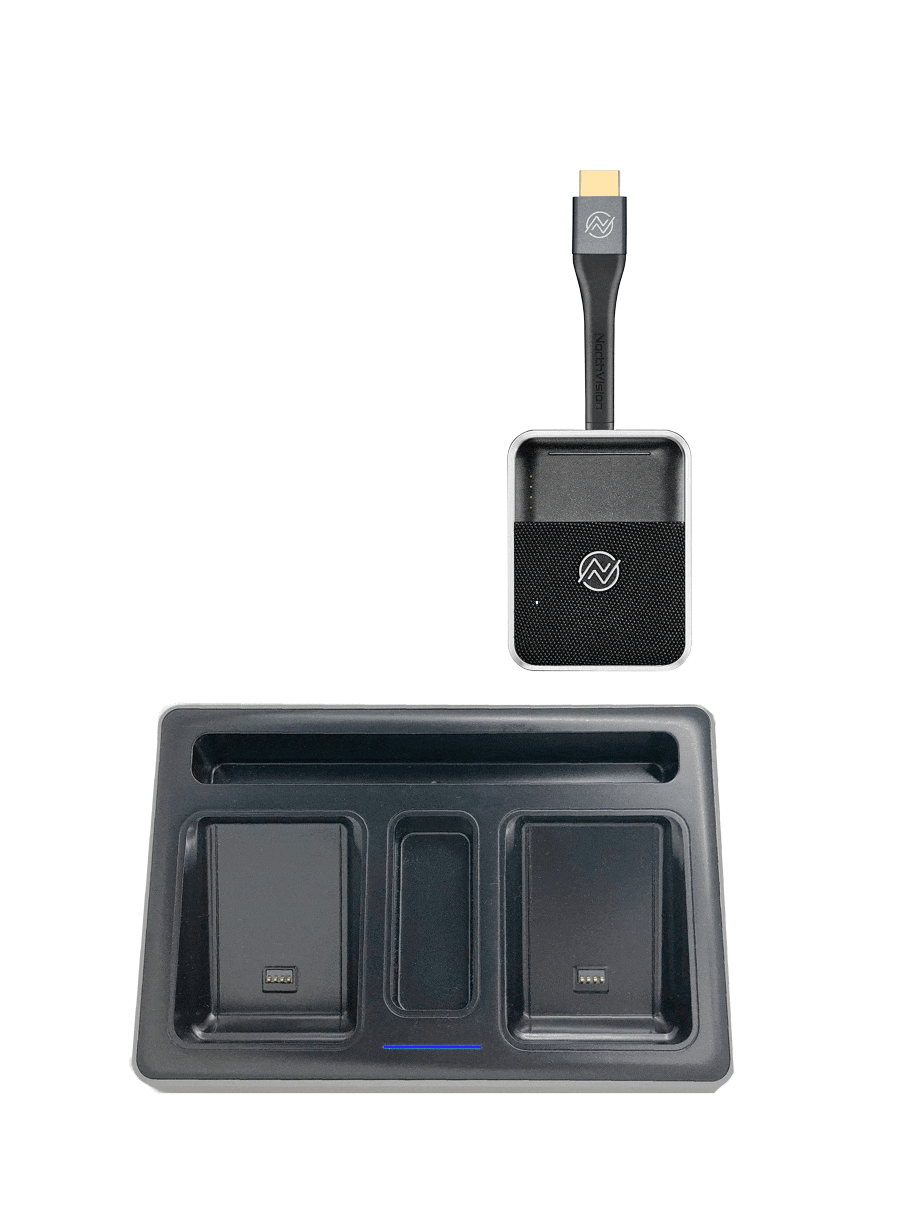 ​
Automatic pairing the system after press transmitter button for 10 sec. The receiver will find and connect to get ready for play.
Multiple input / output connectivity
​
2 HDMI outputs support the same image shown on 2 displays

2 USB support keyboard/mouse function

Audio-out for an external audio system
​
Magnetic attraction design to support daisy chain the multi-stations.

Cordless pin with slide-in design to support in right position for charging.